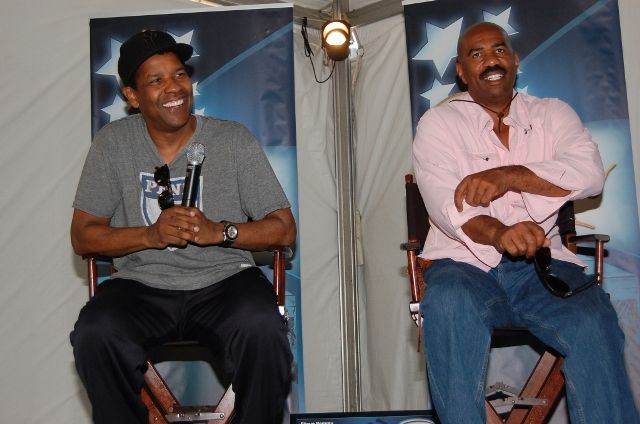 "Manhood is actually a disciplined series of events that occur in your life that actually makes you a man!"  Steve Harvey
(Steve Harvey and Denzel Washington at the 2011 mentoring event in Dallas. From Black Gives Back! http://www.blackgivesback.com/2011/06/steve-harvey-hosts-3rd-annual-mentoring.html)
Yesterday for Examiner.com, I wrote about Dallas Mayor, Mike Rawlings rally for men to stand up against domestic abuse. In that piece they had outlined What it Takes to Be a Man? They mentioned a few great points:
A man never hits a woman.
A man speaks out against domestic abuse.
A man teaches his daughter how men should treat her and that she should never allow herself to be abused. Not once.
A man teaches his sons to respect women.
The last bullet point really speaks volumes to me because as a single mother, HOW CAN YOU ACCOMPLISH THIS? I have posted interviews that I've had with authors such as Zachary Hawkins who wrote the book, Statistics to Success: 4 Priorities  Single Mothers can Champion to raise Successful Sons. It's difficult for single mothers to manager their household, finances, their children and themselves. We need a village. We need men to help. Some of us have grandfathers, uncles, coaches, and teachers. And some of us have experienced those men closest to us abuse us and the trust factor can be a tremendous hurdle to overcome. So we need more men to step up and help us teach our sons. How can I show you or understand you when I am not a man.?How can I prove to you what a real man is when the father you have is not around, doesn't want to be around or can't be around? What do single mothers do>  Society condemns US (the single Mom) that somehow WE have a flaw that made the men leave or that WE did something wrong and so WE deserve to be alone and struggle. I say STOP that line of thinking. I'm so proud there are men out there that are Standing UP against domestic abuse and wanting to help us mentor our sons.
Steve Harvey has  a Mentoring Camp for Young Men
In June, Steve Harvey will be holding a mentoring camp for  young men in Dallas on June 11th through the 16th. The importance of something like this is that it plants a seed and sends a message to your son that people do care. It opens up possibilities for your son to dream and to follow that dream. It teaches your son how to be a real man.
If you are a young man between the ages of 13-18, are enrolled in grades 8th – 11th at the time of submission and are being raised in a single female home, Steve Harvey is looking for you! BCG Readers, here's a story to share and the reward for the young men selected is priceless.
via Steve Harveys Mentoring Camp for Young Men to Be Held in Dallas this June; Applications Now Open! – Black Celebrity Giving | Black Celebrity Giving.
Check out Steve Harvey's Interview on CNN

The deadline is April 5, 2013.  To apply, please visit http://steveharveymentoring.com/